I have been incarnated since 1949. The world is a vast and interesting place filled with riddles and hidden meanings. When I track the immense world of ideas and bring my intuitions into the service of my intelligence I approach the region of universal understanding. I am a graduate of The Goetheanum since 1980. 
Everyone of us are profoundly rooted in the vast interconnected reality of the ideal world. True communion arises when we understand each other and share our ideas with each other. This effort sharpens our intuitions and sharpens our sense of the vast Logos. Everything from the furthest reaches of the stars to the most intimate aspects of the soul and spirit are part of the vast Logos of the Living Word.
"Now given that we all come from the same Spiritual World of the Stars and we all come from the same Devachan vastness of our Zodiac and planetary system, which makes what we strive for all curiously equal when we get right down to consider it. How can we accurately connect the dots? Everyone is striving to connect the dots. There is no doubt that this question occupies the cutting edge of Materialistic Science and the cutting edge of Spiritual Science. It is Biblical as well as Interstellar. It covers both birth and death and what comes after death and how we arrive again on Earth after disappearing. Where in fact did we disappear to and what method of transit do we use to come back? We are by design and construction ALL, are given a ROUND TRIP ticket if we carry an I AM."  (Key essay on SOPHIA and a reassessment Space Exploration CLICK LINK)
If you're interested in 'ME' and ABOUT ME, and how I started to crawl out from under MY rock, well it really jumped out and bit me, STARTING HERE (CLICK LINK). The person in the picture below was me at 19 years old. This life invitation and riddle enveloped me, sought me out and pricked me with a question. Below, at 19 years old, a first Michael School Question, a kind of Parsifal question, which should arise when we are in the vicinity of 19, arose for me in the most commonplace American idiom, parlance and jargon. (CLICK ON PICTURE BELOW follow procedure as indicated and watch this 1 MINUTE – ME, arriving at one of the first riddles of my own American destiny.) That's ME!
CLICK ON PICTURE BELOW DOWNLOAD AND WATCH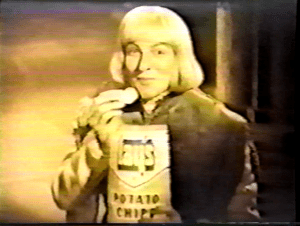 A Study in the Transubstantiation of Matter.
NEW MEXICO AND GOLGOTHA – THE TWO TRINITIES by Bradford Riley