These pale efforts were cast when I was a student at the Goetheanum and were written before 1980. They are a bit dry and stilted but I was learning the Sonnet's secrets which are wonderful to see. Iambics with TWELVE LINES and + TWO giving Fourteen lines with Twelve pointed living stars in the longs and shorts of each line. There is an Etheric Mystery and training here in penetrating formative forces. Making Twelve Stars with Twelve Lines a picture of the constellations of the TWELVEFOLDNESS and the tying together in the 13th and 14th lines. Sonnet systems work on creating the FIVE CHAMBERED HEART(SEE LINK). Shakespeare was the master of Sonnets Gerard Manley Hopkins worked with a kind of genius on the unsprung living sonnet form. The math of iambic pentameter in technical crafting of Word structures gives Shakespeare's Dramas their brilliant symphonic force. Eternity is allowed to breath and take life in the Sonnet. I shall look through my early work and add some as I find them buried deep in the boxes where they have lain for years.
EASTER SONNET
Arise O' Easter Sun and bless this day,
And take our souls aloft with you to pray.
A God has mastered what men learn in clay,
Bestowed on men the rights of Heaven's way.
And so we linger long in darkness not,
But rise with you from shadows of the grave.
Let not our souls be stultified and rot,
But rouse the Spirit's strength to futures brave.
O' give us light to guide through spirit-shoals,
And clarify our paths toward Spirit-goals.
The worst that men could ever do is done.
The God we slew, arose with Easter's Sun.
And now to search and leave no stone unturned,
Plunge into love and let our dust be burned.
JANUARY SONNET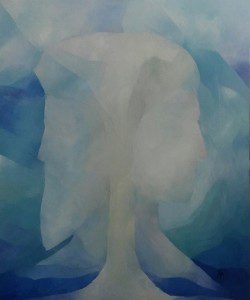 January Mirko Lucchini – Italian Painter Ianus
Now January on God's great clock doth strike
And winter still with work she hasn't done;
There still be fear of Winter's frosty spike
But night is past and steady grows the Sun.
In olden times the barns and cellars cold,
The lean cow in her steamy stall, grew still.
No bees from snows would greet a flower bold;
The river's icy sheen had shut the mill.
Then men with minstrels' songs them do employ;
With rousing tales that stir the frozen blood
To beat, with joy or fear, as when a boy
With skates and bells he braves the icy flood.
Ya Hoy! that cold old Roman month of Janus
Send warming breaths of joy to fill and fan us.
FEBRUARY SONNET
O month of selfless offering divine,
The fish of Christian virtue offered pure,
When Waterman has poured thee from his shrine,
In losing self be gaining self secure,
A truer self that must be sought and won
In finding greatest virtues in small things,
Owning no fortune underneath the Sun,
But humble, like the Shepherds, like the Kings.
No misery, no beggars would there be
If men could say, "Not I, but Christ in me,"
Say, "Sun above come down and be my son!"
Once Lazarus lay stricken in the grave,
But bending low, a God came down to save;
O Grave, give grace! Let God and Man be One!
SPRING
Beethoven – Primavera (Spring/Frühling CLICK LINK)
Hark! What wakes from the cold? See what starts to grow bold,   Round the patches of dew – Flowers bursting with hue.   Is it Spring that doth call From the rocks, over all?   Hear it echo, rebound From the dales with sweet sound.   How the eye is refreshed; How the heart is unmeshed   From the webs of the frost, Once forlorn, and so lost.   Now the flood of the Spring Seems to leap, seems to wing;   Spreading green in its flights From the depths to the heights.   And the Soul feels the awe Of the wonder it saw.   From the grave sheltered tomb Love hath risen in bloom.   Hear the dead World's re-birth, Trumpet clear, joy and mirth,   "He has borne all our woe, Darkness died, letting go,   'And the future's set free, With new eyes, come and see!"
MARCH SONNET
What makes thy angry wrath appeased and calm?
When March, by seas where fishes rise and weave,
Or March in meadows breezing fresh with balm;
When clouds, that toss their angry heads and grieve,
Like some full, fleecy Ram that wanton springs
From rock to rock and dodges jetting streams;
When waters rush, and snows melt down, like Kings,
Who's icy vestures fade away in dreams,
Then Mars stirs March and in the New Year calls,
And shakes the icy past of Winter's stings,
And sweeps the airs with tempest tossing wings,
Till churning life breaks down the icy walls.
The nightmare of the Winter's day are freed,
And hopes now bulge like buds and bursting seed.
RESURRECTION SONNET
The offer came from Christ, the Lord of Love,
He gave the Earth and planets heavenly power,
That love and Light shower down from realms above
To hearts, that pulse with hope and count the hours.
He knew all Kingdoms, whence those Kingdoms came;
Of men and Angels, Archangels, Archai,
Of stone and plant and animal, each name,
And gave to men the WORD with powers high.
The Life, the Love, the Light in darkness shone.
His love was felt by Angel, plant and stone.
The animals and nature heard his call,
But men had sunk in blind and wingless fall.
We slew a God that offered heaven's will
And Christ gave man what death can never kill.
EASTER IMAGINATION SONNET
The chalk in Earth with lust awoke and strove,
The rebel clouds attacked all breathing souls,
With wringing passions, fettering pangs, they clove
To tear the Soul of Man from Spirit's goals.
For Lucifer our breath of carbon sought;
"Let Earth asphyxiate itself to death,
In self-illusions snare forever caught;
For Love of Men on Earth, why waste a breath?"
Man gasps amid the smog polluted gloom!
Or forms "new" social laws for soulless aims;
With Ahrimanic thoughts we seal our doom,
Betraying Spirit goals for robot's claims;
From wrenching, wringing wrath, all black with crime
He rose, all Light with Love, at Easter time.
APRIL SONNET
The Bull with thunderous hoofs doth shower down
The loosened rains that sprinkle all the land.
The Ram has run, from meadows greening gown,
To hills, away from bullish pranks so grand.
And twixt these herds of light and shadow forms
Of rain imbibed and Sun out-poured with love,
The Earth, with blushing blossoms pink en-warms
Those starry dreams that flood her from above.
We catch her smile within those blushing vales,
Among her fruit trees, flower paths and ponds.
Those ancient songs she sings, Earth's fairy tales,
We hear with joy while listening through the fronds.
Tis time for weaving dreams whose beauty's blest,
Her creatures stir and nestle near her breast.
MAY SONNET
Infused with firmament, the flowered land,
This buzzing loom of bees and butterflies,
Displays a starry tapestry so grand
That we in awe see sunbeams dip and rise,
Sun-servants with gold buckets earthward strive.
The meadow lies all succulent and plush;
Mechanic Man has paused in silent hush
To watch the sacred twins at last arrive.
Then round the fair white cow they, dancing, come,
No twig or stem or blade of grass they bend,
But dance each beat to silent pulse of drum,
And join each blossom's hue to rainbow's end.
This Cosmic glimpse recedes behind the green
Mechanic Man restarts his rude machine.
BRADFORD'S ASCENSION POEM
Can you feel the Risen One Pulsing gently through the storm? Can you sense the glowing warm, Since His victories won?   Flowers that rise, alive can tell; Winds can waft his words along; Birds that sing, do share his song; Stones enchanted dwell;   Deep in hope in slumbers rare, Dreaming dreams of crystal plains, Where the Lord of Peace sustains Kingdoms wide and fair.   On Ascension Christ went up, Spreading wide his form of light; Up into the highest height, Down into Earth's cup.   There in realms of Spirit sight, Told of death and deep felt woe, So that Angels high should know Where to send their light.   Down into the cavernous Earth, Telling stones new wondrous tales; Over hills and skies and dales, Shared He love's re-birth.   Stone and plant and beast had ears, Gnome, undine, and sylph and elve, Angels, spheres and starry twelve, Each around Him nears.   Now He works in every place, In all time and space He gives Hope's re-birth that pulsing lives, King and Lord of Grace.   He who lit the darkened tomb, Died and opened all life's vaults, Gave men truth in place of faults, Rose undimmed from gloom!   Him it is we seek to know, Christ at work in depths and heights, Granting us new Spirit sights, Setting free love's flow.   Love will ever be our star, Guiding all our ways and ends, Lending strength to make amends, Friends, in Christ, we are!  
Click Link for a Holy Ascension Song
  A WHITSUN POEM – A PROPHECY
When swords are loosened from their stones And fiery sparks transform our bones;   When souls are freeing Spirit's Love And joining Earth with Heaven above;   When bees release the honey drops And men can harvest Spirit crops;   When Spirit-Sun will soak the dew And let the Holy Spirit through;   When culture building powers are freed And men have conquered earthly greed;   When hidden treasure troves appear That time has kept, from year to year;   When men shall know their earthly friends With vision's glance that Spirit lends;   And sister, brother, Spirit ties Have drawn the curtain from our eyes;   When knowledge lost is found again And words will heal constricted men;   And with the very heart of God, With selfless love, our feet are shod;   O' then will men awake and cry "That starry seed within, the  'I',   "Is all alive with churning love…" And soft, with lightening speed, the dove   Unlocked our bodies, hidden there And rising through the Spirit air,   We merge, expand, become finite, I AM the Cosmic Seed of Living Light!  
JULY SONNET
The mid-day sleep that nature keeps, is past
And growth and life abound in gardens full,
But man is slow where nature seems too fast,
Her weedy work demands that we should pull
And snip her clutching jungle of debris.
With crab-like pincers, hooks and claws we cleave,
To stay flamboyant growth, so fancy free;
And keep her at a pace we can conceive,
Or let her leafy flood consume the land.
She teaches us to swim with skillful hand,
Or drown like Noah's friends when Heaven poured
The sorrow that the Gods for years had stored
On mortal heads to change their ways;
Now Nature lends instruction all our days.
AUGUST SONNET
And now the Lion roars with sultry breath;
Like running dogs that loll their tongues,
Our plants hang limp and suffer desert death.
His fiery touch burns, deep inside our lungs;
Subdued, we wait in pools of blue
Or lie face down in faint, too weak to move.
His kingdom shimmers sharp in golden hue.
Above the Sun subjects, His subjects prove
What efforts of their hearts they willing give.
But still it is a question, how to live
When searing heat competes with worker's will,
His mighty furance throat would sooner kill
Than bless the land and let it drink it's fill.
When Sun is King the Lion's pride will thrill!
SEPTEMBER SONNET
O' Virgin, pure, that time cannot efface,
Though people try to ply a tale and spoil
The mysteries that heaven sent as grace,
The miracles of higher harvest toil,
Would never thee obscure by flaws or stains,
But ever bountiful and pure remains;
Thy golden corn, the cup, the bread, the wine;
The Lily and the Rose together twine,
And make the Earth thy altar and thy shrine.
You gave the life to every living thing
And made a place for Christ, the Sun and King.
He brought His brothers of the higher Nine
To where your stable star could stand above
And make the Earth the cradle of thy love.
THE PRE-BIRTH VISION OF AMERICA By Bradford Riley
(Washington's Vision at Valley Forge LINK)
 The winter with it's agony At Valley Forge lay dying, In want of food and warmth by night, The Shivering soldiers lying.   Twas Washington in Seventy-seven, When Freedom waited birth, A Nation in it's Labor crying; "Make Free all men on Earth!"   And Washington was left alone, His tent bedecked with snow, To meditate the solmn sum That Freedom cost, in woe.   A fighter and a farmer, he Knew well both frost and fear. The icy wind that whistled, felt Like mocking at his ear.   And he, beset with all these doubts, Stayed in his tent to write – When suddenly, on looking up, He saw a wondrous sight.   A woman, lovely as the moon, Stood there before his eyes, And he, not guessing whence she came, Sat stunned and did not rise.   Five times he asked her who she was; She did not answer him. And Washington could hardly move; His vision yet was dim.   The strongest feeling touched his mind, His body seemed grown lighter, Firm substance seemed to melt away, And everything shone brighter.   Before him now in fold on fold, A rising mist unfurled, Which, clearing, spread before his gaze, All countries of the world.   "O' Son of Freedom, look and learn!" She spoke in voice most grave. A mighty Angel hovered o'er The Atlantic Ocean wave,   Who took much water from the sea, And cast it left and right. From Europe, old and America, young, Rose clouds of ominous might.   And these all merged and westward moved, Wrapping America 'round. Then Lightening flashed and dreadful cries In ragged air resound.   The New World's seeds were quickly sown -From every land a son; And with a thunderous rumbling birth The new age had begun.   Then once again the angel dipped, And poured his waters out. The clouds dispersed and fled away, Removed were war and doubt.   "O' Son of Freedom, years have passed, and perilous times advance!" The Angel hovering o'er the sea Then southward cast his glance.   A cloud from Africa now comes. It's warring demons smother The land's new growth, it's busy towns, Each envies, now, his brother.   From clouds of demon hate and wrath, The bristling stings do fly, And brothers soon with warring might Against each other vie.   But see! there comes from war-torn land The Union as Ideal, A messenger from Spirit Heights Brings peace with freedom's seal!   Again that woman spoke to him; Again his vision cleared; Three mighty trumpet blasts he heard; The Angel, dark, appeared!   Like a Cosmic Waterman He sprinkled out his woe, Where wide Europe's spreading lands Together slept below;   Crept a foul black misty cloud That entered every soul, Spreading fear that reared and sneered It's greedy head and jowl.   Glowering red with fearful dread, Amassed this grisly shroud. Filled with hate to devastate America, the proud!   Swiftly did the storm attack And loose it's warring hosts, Leveled fast with awesome blasts; No pride was left for boasts.   Cities, towns, were in the night, Consumed in flaming shower,  O', woe America, O' woe, That ere ye boasted power.   "Look and learn the truth to wield." He heard the woman say, "O first born son of western land Forget not heaven's way!"   Then another trumpet blast Rocked his vision's ground Revelation! Revelation! Light is born from sound.   They hear Christ's words and see his hosts Bless Union – Man with God. An Inner Light breaks free in men, In Spirit-Land they trod.   Men with vision, baptized,  freed, Respect each other's path. Impossible, with Spirit-eyes, To kill again in wrath.   Thus mingle men with Spirit-Forms. All battles nearly ended; "Thus, live and learn, O' first born Son" Her voice again had blended,   Blended with the Vision's scenes, The Angel dipping water; Dispersed the dark and rumbling night Of mankind's endless slaughter.    Life arose and lands redeemed And men sought Spirit-guides, And Washington in soul was stunned; His feelings swelled in tides.   "First-born Son of Western land, Pray heed what thou hast seen. Three trials mark this Country's growth." Her voice was calm, serene.   "The third malignant menace strikes At deepest roots of shame. That men forget all Spirit-aid And give the Beast God's name.   "The tempter of the human soul Will walk the Earth and bless And guide men to their deepest hell With magic's black impress.   "None against such future foes May stand with faith secure. O' may the Risen One for men Be rock and armor pure."   Slowly, slowly, fading, fine, The mist, dispersing felt To Washington, as midnight's bell, Where by his grave he knelt.   Chiming, toning, towards his self, Towards tent and mid-day breeze; While all around his body wrapt The winter's frosty freeze.   There stood a woman, calm, serene, He faced her without fear. She said, "America is born… God's will must bring men cheer."   The woman smiled and left the tent. The tide of life returned. The Father of our country knew Men's Freedom must be earned.   Washington was then aware, And fully in his mind, Called an officer to hear What future 'waits mankind.   "Oppression's of the whole of Earth Shall rise and dupe the wise. Through magic splendor gained through craft Deceive and blind men's eyes."   Thus spoke the Father of our land, Who knew the Eagle's worth. He knew the sleeping West must wake, Like John, to higher birth.   Our Country, like a child has grown From boyhood to a man, And far into the future shine The hopes of Heaven's plan.    
THE TEMPLE OF HUMANITY AND THE TENTH HIERARCHY
"We know that the man of to-day, as he stands before us, consists in his human nature of four parts which are the key to all spiritual science — that the man consists of the physical, etheric and astral bodies, and of the 'I.' We know how a man develops these further, that the 'I' works from within outwards, that in the first place the astral body is changed in such a way as to bring it completely under the dominion of the 'I.' Now when the astral body is so far transmuted that the 'I' has complete power over it, we say: this astral body has become of such a nature that it can contain the Spirit-self or Manas. It is the same with the etheric body. When the work of the 'I' becomes still more effective, it masters also the resisting forces of the etheric body, and the transmuted etheric body is the Life-spirit or Budhi. And last of all, when the 'I' becomes ruler of the physical body, when it overcomes the strongest of the resisting forces, the forces of the physical body, then the man has in him the Spirit-man or Atma. So he should be a seven-membered man when he had transmuted his physical body to Atma or Spirit-man (CLICK LINK FOR FURTHER STUDY).  Externally, the physical body is seen just as a physical body, but internally, it is completely dominated by the 'I,' it glows with the 'I;' such is the body which is physical body and Atma at the same time. The etheric body is at the same time etheric body and Life-Spirit or Budhi, the astral is astral body and Spirit-self or Manas; the 'I' has now become the general Ruler. Thus man pushes onwards to higher stages of development, thus he transforms himself, and works at his own godliness, at his deification, as is said by Dionysius, the Areopagite, the friend and pupil of the Apostle Paul. But arriving at this point, development is not yet finished. When the man is so far advanced that he has completely conquered and absolutely dominated the physical body, he has still higher stages of development before him. This rises ever higher and higher, and we gaze upwards into spiritual heights, to super-human beings, and these become ever mightier and mightier."
Imagine a fair temple, if you can, Four Towers flanking it, from which to scan   The lovely world. The oldest of these towers Was crumbling, like the body, which is ours;   Like it, constructed of mere dust and stone; And death it was who called this place his own.   The second tower was built of tissue living, By water fountains much refreshed, and giving   To all its neighbors grace of life and growth. It's ruler dwelt in sleep and silence, both.   The third towers was of starry substance made, And through its rooms the soul, awakened, strayed.   The beasts around its lower floors were milling, Above, Man's soul was thinking, feeling, willing.   The fourth tower housed a wise man from the East, Who ruled dead stone, and sleeping plant and beast;   His rule extended even to the Soul; His was the Consciousness that held the whole.   Within this four-square temple may be found Three further chapels, beautiful and round;   And these, the Wise King has designed and built, With graceful pillars, domes of shining gilt.   His work transforming starry human thought, A
Spirit-Self
of higher worth has wrought.   His work transforming dim dreams of the heart, Has wrought a
Life-Spirit
that lives through art.   His triumph over death has given birth To
Spirit-Man
, the first free being on Earth.   And in this temple built on heaven's plan, This seven-fold temple, dwells the
Spirit-Man
.    
OR SAID IN ANOTHER WAY – The Spiritual Design of Humanity
This crumbling castle given to dust The Gods have built with mighty thrust.   From birth to death we shape and share Adam's dust and earthly care. This honoured clay we took on loan, Our sculptured stone returns as bone.   But bone alone could never breathe; Our clay requires a finer sheath, To churn the fluids through the limbs; Our Ether-Form we rarely glimpse.   Yet how to wake this pulsing form? Humanity steers itself through tides of daily storm. The beast must wake to graze and run; So Starry-Man is heaven's Son.   Yet starry light is dim and dark, Tis said – Man hath a greater spark, To form, to hold his mighty beams, Our Ego-Sun frees life from dreams.   Thus four turrets of command Guard our soul with vistas grand. Still, within this fortress hold, Three bright towers glimmer gold.   The tower first that in our sight Casts a soothing gentle light, Down to beasts that wildly howl;
Spirit-Self
must tame their growl.   The second tower when there we come, Colors soft with gently hum,
Life-Spirit
nourishes every part With tones that tingle to the very heart.   The third secluded crystal tower Seems a man of grace and power. Rooted deep within the grounds Waits
Spirit-Man's
un-uttered sounds.   Closed gates with seven-sealed plan In runic words, revealing Man!  
The Blessing I wrote for Sharing our meals together that I still use to this day
Meal Blessing by Bradford Riley
Bread of Body Soul and Spirit
Earth and Sun and Planet Powers.
Change this substance as We share it
Let Christ's Will flow into ours.